A Take-Home Harvest Dinner
For your safety we changed our 5th annual WINE & DINE community-wide dinner and fundraiser to

A TAKE-HOME HARVEST DINNER
from Our Farms to You

on Saturday, September 26! (Tickets are on sale now.)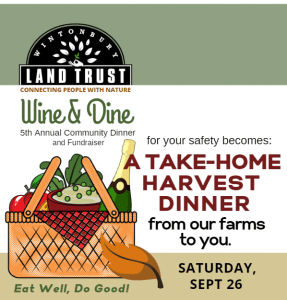 Fall is the perfect time to order A Take-Home Harvest Dinner filled with tasty, locally-sourced foods prepared by Executive Chef Jeremy Archer and his team at Gillette Ridge Golf Club in Bloomfield.
We are happy to announce the participation of our farm partners – Newgate Farms and The 4 Five Farm – along with other regional vendors!
You get to select either a chicken, fish, or vegetarian entree. Each option comes with appetizer, salad, sides, dessert, and special beverages.  Dinners will be complemented with Autumn flower bouquets and other surprises.
Drive to Gillette Ridge Golf Club in Bloomfield where we will deliver your picnic basket to your car, carefully prepared and packaged according to all sanitary regulations.
Purchase Your Tickets
If you did not already purchase your tickets for Wine & Dine, Take-Home Harvest Dinner tickets are on sale now. They are $85 for current members, or $95 for nonmembers (become a member for 2020 and save $10). Your reservation includes a sumptuous farm-to-table dinner and the warm feeling you'll get helping us protect and connect people with our community's natural resources, farmlands, and wildlife corridors. It's a win-win for everybody. Eat well and do good! Tickets are available on a first come, first served basis. Deadline is September 10.  All directions will be sent to you along with date reminders.
---

We cannot accomplish our goals without the support, involvement, and enthusiasm of our sponsors, donors, and volunteers.
If you want to help continue the important community work of the Wintonbury Land Trust: