WLT 5th Annual WINE & DINE – Rescheduled
Our 5th annual Wine & Dine for for the health and safety of our guests becomes:  A TAKE-OUT HARVEST DINNER from our farms to you on Saturday, September 26…More details to come! 
Eat Well & Do Good!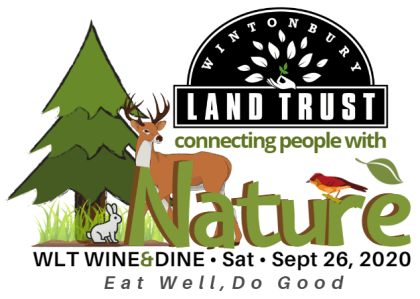 "Meet and Greet" your neighbors and community at the picturesque Wintonbury Hills Golf Course for tasty appetizers, a glass of wine and friendly conversation.
Then join other guests for a home-cooked dinner in an intimate group setting at one of our many hosts' homes in Bloomfield.
Enjoy old-fashioned conversation over dinner while getting to know folks around the table.
Dress: "Informal chic."
DEADLINE TO BUY TICKETS: Friday, September 10, 2020.
Make a Reservation
Tickets are $85 as a member or $95 as a nonmember (become a member and save $10). Your reservation includes a reception with appetizers and prosecco, a sumptuous meal with wine and dessert in a private home, and the warm feeling you'll get doing something good for your community — helping Wintonbury Land Trust protect our natural resources, farmlands, and wildlife corridors while connecting people with nature. It's a win-win for everybody! Reservations accepted on a first come, first served basis. Deadline is September 10.
---
Where Does the Money Go? 

Wine & Dine is Wintonbury Land Trust's major annual fundraising event, contributing over $36,250 to our work in the past four years! Last year's event enabled our 501(c)3, all-volunteer nonprofit to:
Maintain our pastures, fields, and meadows:
Advance the mission of Hawk Hill Farm:
Purchased parts to repair a donated tractor. This will enable WLT to do some of the mowing and trail maintenance with volunteers at a reduced expense,
Fund educational outreach events:
Presented Monarch Butterfly Habitats lecture at WLT annual meeting at the 4-H Education Center at Auerfarm.
Co-sponsored with Bloomfield Leisure & Senior Services Departments a Black Bears in CT lecture. (Over 100 people attended!)
Conducted nature hikes on CT Trails Day.
Organized annual Over the Mountain Hike with co-sponsors Simsbury Land Trust and Town of Bloomfield.
Paid for insurance, supplies, website maintenance, postage, and unexpected stewardship expenses such as the complicated removal of barbed wire fence from WLT's Van Otterloo Preserve.
---
Please join us in connecting people with nature and protecting our community's natural resources, farmlands, and wildlife corridors: