Why do we love our butterflies, swallows and bees, but not bats? Bats perform many of the same services, and more, yet many folks fear them or at least don't appreciate them. Is it because they fly at night, or because of vampire myths? We can dispel these fears with some knowledge.
The average bat in Connecticut can consume its body weight each night in insects, including mosquitoes and agricultural pests such as moths. Worldwide bats pollinate over 400 species of plants, including cocoa, bananas and agave. What's a world without chocolate or tequila? Bats eat insects that infest corn and other important crops, estimated to save $3.7 billion in reduced crop damage and reduced need for pesticides in the US.
So-called vampire bats, which only occur in Central and South America, don't suck blood, but make a small incision in an animal or bird and lick the blood. The anti-coagulant in their saliva, called Draculin, is being studied for use in heart and stroke medications. Even their guano is useful for fertilizers. In the Civil War, the Confederacy used bat guano to make gunpowder.
Bats are not rodents. Close-ups of their faces are rather cute. They are the only mammals that can truly fly. They fly by echolocation and don't get tangled in your hair. Though rabies occurs in bats, only 1% of the population carries the disease.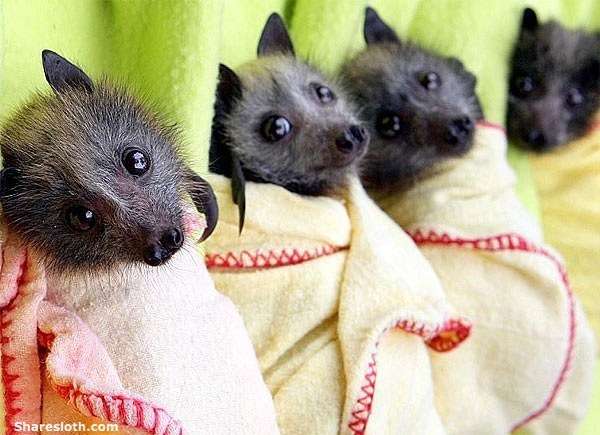 In Connecticut, there are eight species of bats, all of which are in grave danger of extinction or serious decline. Big Brown Bats are the most common, followed by Little Brown Bats. Bats reproduce slowly, with each mother producing only one or two pups each year. Mating occurs in fall and by July the pups fly. In September, bats migrate to caves and mines, mostly in Vermont, where they hibernate until spring.
Bats are in trouble in many areas of the world. In Connecticut, 95 percent of our Connecticut bats have been lost due to White Nose Syndrome (WNS), a disease imported from Asia in 2006. However, there is some hope, as ultraviolet light has proved successful in eradicating the disease. More research is needed on how this treatment affects cave environments. Wind turbines are another serious threat to bats, adding to the decline. As Connecticut adds more wind power to its renewable portfolio, it would do well to look to Hawaii, which is providing a good example of how careful regulation of the wind industry may be able to minimize the toll on bats and birds through careful planning and siting of wind turbines.
How can we help our bats? Blueprints for bat houses and other information are available at www.batcon.org.  Maternity roosts need to be very warm, so place them on a pole or building facing south. We can plant gardens for bats, especially those with pollinator plants that will attract night-flying moths, a favorite food for bats. We can advocate for bats.  And just in time for Hallowe'en, Bat Week is October 24 -31!  Learn more about these wonderful creatures by visiting www.batweek.org.  So what's not to love?
By Zellene Sandler, land trust member