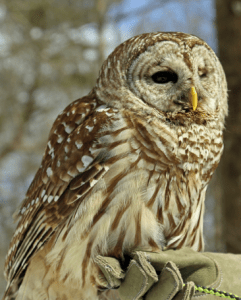 It seems owls always have been surrounded by an air of mystery, probably because most are nocturnal and not easily spotted in the wild. During this free and informative webinar discover the extraordinary features of owls, including exceptional eyesight, hearing, and ability to fly silently. This is your chance to witness a live Northern Saw-Whet Owl, Eastern Screech Owl, Barred Owl, Barn Owl, and Great-Horned Owl!
The webinar is presented by staff from Horizon Wings Raptor Rehabilitation & Education in Ashford, CT. Their mission is to rehabilitate birds of prey for release into the wild in order to maintain their population and to educate the community to enhance awareness of the environment. "Asha" (pictured) is one of the Barred Owls in their care.
This is part of the Wintonbury Land Trust's on-going Environmental Nature Series with Bloomfield Leisure Services. For everyone's safety, we're presenting this as a free Zoom webinar. No special software or user account is required, just a computer, tablet, or smart phone web browser. We need to send you a login password though, so definitely register for free as soon as possible.