The board of directors meets monthly, and members are welcome to learn more about your land trust by attending. Please contact us for details.
Update: The snow was too soft for cross country skis or snowshoes (and the streams were running high)! But hiking boots and poles worked just fine. Thanks for coming out to explore this special preserve!

Please come with good outdoor snow shoes or hiking boots if no snow is present. Wear seasonable outdoor clothing. The trail is an easy to moderate outing, one and a half to two hours in length.
Details
Meet at the cul-de-sac at the top of Juniper Road in Bloomfield on Saturday, February 23rd at 9:30 am. Rain date is Sunday the 24th at 9:30 am. Check our Website and Facebook for postings or cancellation.

It's time for a party with muffins, hot drinks, and (hopefully) snow at Hawk Hill Farm (map for directions).
Members and guests are invited to an informal Winter Social at Hawk Hill Farm. From 3:00 to 5:00 pm the Beanery Bistro will serve delicious muffins, hot chocolates, and coffees in the barn. Fire pits outside the barn will keep away the chill. We'll have lawn chairs, or bring your favorite. Dress is stay-warm casual! Current members are free, and guests are $5 at the door (additional donations welcome).
Beginning at 2:00 pm an optional hike will start from the barn – and return in time for warm drinks and muffins with the others! Join us for up to 1.5 miles up Hawk Hill to Bloomfield's LaSalette Park's pond, woods, and view of Hartford.
We're celebrating winter … and will be happy to tell you about the progress restoring the barn, keeping the farm in active use, and connecting trails in Land Trust and Town properties.
RSVPs appreciated. To help us plan, tell us you're coming with an email.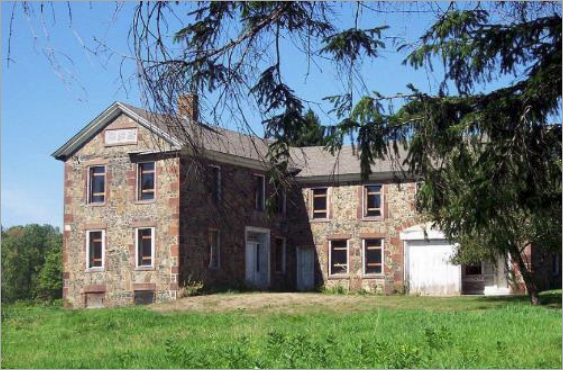 Enjoy an invigorating hike from Simsbury to Bloomfield co-sponsored by the Wintonbury and Simsbury Land Trusts and Bloomfield Leisure Services. Along with the scenery, the free hike will showcase WLT and SLT properties that provide town-to-town trail connectivity linking through Penwood State Park.
For the approximately 5.5-mile hike, we'll meet at 9:00 a.m. at the hike's end point: the historic 1834 Oliver Filley House in Bloomfield's LaSalette Park. Bloomfield Leisure Services will provide a bus to shuttle hikers to the starting point, the Flower Bridge in Simsbury.
From there, we'll ascend to Penwood via SLT's Owen Mortimer parcel and their gorgeous Tanager Hill property. We'll take a rest stop in Penwood, visiting Lake Louise and The Pinnacle.
Then we'll descend into Bloomfield by way of WLT's Stout Family Fields and Hawk Hill Farm, home to distinctive Highland cattle, arriving back at LaSalette Park with (hopefully) some stunning views of Hartford.
Bring the family out to the 4-H Educational Center at Auerfarm on a nice fall day. Enjoy entertainment, games, hayrides, food and local 4-H groups displaying their work. Take a walk through their corn maze.
The entire family is sure to have fun engaging in one of the following activities: vegetable garden competition, hay rides, scarecrow contest, hay play, apple cider demonstrations, skillet toss (women only), face painting, flower garden competition, tag sale, baking competition, bounce house, pumpkin painting, cow chip contest, mason jar fun raiser, all day entertain and food, food, and more food.
Free admission. Bring cash for tickets for food, games, and other activities.