Join us for a presentation on black bears in Connecticut sponsored by Bloomfield Leisure Services, Bloomfield Senior Services, and the Wintonbury Land Trust.
A fascinating multimedia presentation in the new Alvin & Beatrice Wood Human Services Center
Light refreshments will be served
Question and answer period
Rides provided for seniors who need transportation through Bloomfield Senior Services at 860.243.8361
Preregister for free with Bloomfield Leisure Services online as refreshments will be served, or call 860.243.2923 for more details
Paul Colburn, a Connecticut Master Wildlife Conservationist and avid outdoorsman, will focus on the natural history of black bears and current research efforts. He will provide an overview of their habitat, diet, behavior, and reproduction and use black bear artifacts to help dispel myths and common misunderstandings. Paul also will share practical recommendations for optimum co-existence with our black bear neighbors.
Join your Land Trust property stewards on Friday, September 20, and/or Saturday, September 21 for a general cleanup of the historic barn and invasive vine work on the many specimen trees at the farm. Meet in front of the barn at 9:00 am and work as long as weather and schedules permit. Bring loppers, gloves, and good boots. Questions? Contact steward Pete Bartkoski.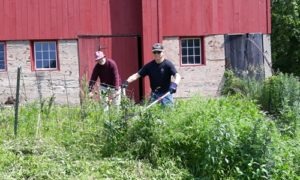 Join friends and neighbors of all ages to help remove litter from the trails and riverbank of Bloomfield's Farmington River Park. With enough volunteers, crews will go to nearby Griffin Brook in the Land Trust's Merritt Preserve and canoe/kayak on the river.
The Land Trust co-hosts this event with the Farmington River Watershed Association as part of the Connecticut River Conservancy's Source-to-Sea Cleanup. While most Bloomfield streams flow into Hartford's Park River, some flow north into the Farmington which received a rare U.S. National Park Service Wild & Scenic designation earlier this year. The Hartford Courant's Peter Marteka wrote about Farmington River Park recently.
The goal is to maintain water quality, improve wildlife habitat, and sustain healthy recreation in our region's waterways. Past cleanups removed roof shingles, washing machine parts, ironing boards, glass bottles, and more from the riverbanks.
So please join us: RSVP online. We'll provide garbage bags and gloves. We recommend pants, long sleeves, mud-worthy footwear, and personal gloves. And if you are interested in canoeing/kayaking, add a note to your online reservation.
Enjoy an invigorating hike from Simsbury to Bloomfield co-sponsored by the Wintonbury and Simsbury Land Trusts and Bloomfield Leisure Services. Along with the scenery, the free hike will showcase WLT and SLT properties that provide town-to-town trail connectivity linking through Penwood State Park.
For the approximately 5.5-mile hike, we'll meet at 9:00 a.m. at the hike's end point: the historic 1834 Oliver Filley House in Bloomfield's LaSalette Park. Bloomfield Leisure Services will provide a bus to shuttle hikers to the starting point, SLT's Owen Mortimer property in Simsbury.

From there, we'll ascend to Penwood via SLT's gorgeous Tanager Hill property. We'll take a rest stop in Penwood, visiting Lake Louise and The Pinnacle. Then we'll descend into Bloomfield by way of WLT's Stout Family Fields and Hawk Hill Farm, arriving back at LaSalette Park with (hopefully) some stunning views of Hartford.
If renovations in Filley Park are complete in time, we will add an optional extension from LaSalette Park to Filley Park in Bloomfield Center for those interested. Details and arrangements will be available the day of the hike.