Join us for the presentation, meeting, or both! (Light refreshments will be served.)
Annual Meeting 6:00 – 7:00 pm
The public is welcome to arrive early to learn more about the Wintonbury Land Trust's activities in 2018-2019. Current annual and lifetime members will be invited to elect directors to the board and vote on changes to the Bylaws. The proposed agenda is here.
Monarch Butterfly Presentation 7:30 – 8:30 pm
Every Yard Counts: How to Create a Healthy Monarch Butterfly Habitat at Home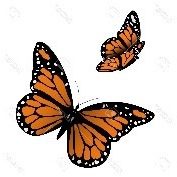 Diane St. John will explain the Monarch life cycle and how to attract and raise them in your yard with organic gardening techniques and the plants they love (and other pollinators like birds, dragonflies, moths, bees, bats, etc).
Diane is a Certified master Gardener and accredited by the Northeast Organic Farming Association-CT Chapter. She is a passionate educator, avid photographer, and manager of Natureworks. This garden center and landscaping company in Northford, CT, has used organic land practices since its inception in 1983. There she and her staff with the use of the correct plants successfully raised over 1,000 Monarchs since 2014!