Eat Well and Do Good!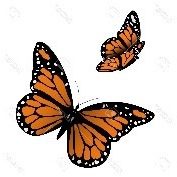 The fourth annual Wine & Dine brought together over 120 people to enjoy home-cooked food paired with carefully selected wines and to help raise a record amount of money for the ongoing and vital work of protecting our natural resources, farmlands, and wildlife corridors. The event was sold out and wait-listed, with preliminary results suggesting we raised over $17,000!
We are grateful for all the many people who, through sponsorships, in-kind donations, advertisements, and volunteering time and talents, made our fundraiser and dinner such a success. We couldn't have done it without all your support, and in turn we ask you to support these businesses. Thank you!
Our two wonderful sponsors: The Richard P. Garmany Fund at the Hartford Foundation for Public Giving and Seabury, An Active Life Plan Community.
Our in-kind donors:  Bloomfield Discount Liquors; Elkabee Fabric Paradise; Elizabeth's Bar & Restaurant; Gillette Ridge Wines & Spirits; Hartford Art School CivicDesign Class: Paulina Modesto, Darcy Peterson, Emma Schroh, and Professor Michael Scricco; Republic; Kathy Rohrs; and, Wintonbury Hills Golf Course. We are especially appreciative of the beautiful nature photographs from Brian Kulvete and Dennis Hubbs.
Our donors: Bonnie Bercowitz, Fredrick & Michelle Bononi, Judi & Roger Bunker, Mary Crary, Kathy Hanaway & Paul Sanson, Wendy Haller, Pasticceria Italia, Peggy R. Lorence, Robert & Margaret Patricelli Family Foundation, Carol & Buz Kohn, Sally & Dale Richter, Gilda Roncari, Susan & Joseph Sappington, Cyral & Richard Sheldon, and Elba & Syd Schulman.
Our gracious dinner hosts: Patrick Buckley & Lee Fenwick, Rise & John.  Cappadona, Patty Connolly/Diana Hughes, Angelique Croasdale-Mills, Debbe & Rich Greenspan, Lois & David Hager, Gail & Victor Herson, Angela Labella & Mark Weisman, Martha & Woody Hess/Ruthanne & Ron Marchetti, Marianne Horn, Beverly & Dick Hughes, Sharon & David Mann/Patty & Don Stern, Lisa & John Stout, Maggie & Sherwood Willard.
Our WLT Volunteer Helpers: Jon Cappadona, Maureen & Jon Colman, Simon Flynn, Donna Hubbs, Abeka Kirton, Catherine Lyons, Ruthanne Marchetti, Linda Wayman and the WLT Board of Directors.
Our hardworking committee members: Sharon Mann (Chair), Rise Cappadona, Gwen Findlay, Jon DeHoyos, Lorna Ives, Paula Jones, Robin Sherwood, Alexa Tzanova, Maggie Willard.
Our Business Community: Simsbury Bank, Contours Spa & Wellness, Solscape, LLC, Auerfarm, The Print Hub, Ariston Specialties, Isaac's Bagel Café, White & Katzman Property Management, Bloomfield Village Pizza, Sala Thai Street Food, Skin Care by Doina, Baram, Tapper & Gans, LLC, Ornamentals,LLC, The Dental Center, LLC, Village Plumbing, LLC, Romano & Fetterman, PC, CTEC Solar, Therapeutic Massage Associates, Bloomfield Garage, Inc., Duncaster, RealLiving Realty, Gillette Ridge Wine & Spirits, The Green Machine, Rideshare Company, University of Hartford's President's College, Williams Service Center, Back East Brewery, Milano Salon & Day Spa, Northeastern Chimney, Naatiya Indian Restaurant and People's United Bank.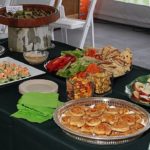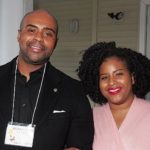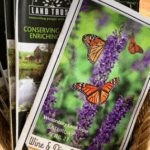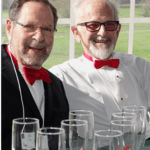 Photos from the reception at the Wintonbury Hills Golf Course, courtesy Sharon Mann & Dennis Hubbs.
---
"Meet and Greet" your neighbors and community at the picturesque Wintonbury Hills Golf Course for tasty appetizers, a glass of wine and friendly conversation.
Then join other guests for a home-cooked dinner in an intimate group setting at one of our many hosts' homes in Bloomfield.
Enjoy old-fashioned conversation over dinner while getting to know folks around the table.
Dress is "informal chic."
DEADLINE TO BUY TICKETS: April 12
Make a Reservation
Tickets are $85 as a member or $95 as a nonmember (become a member and save $10). Your reservation includes a reception with appetizers, a sumptuous meal with wine & dessert in a private home, and the warm feeling you'll get doing something good for your community — helping the Wintonbury Land Trust protect our natural resources, farmlands, and wildlife corridors. It's a win-win for everybody! Reservations accepted on a first come, first served basis:
Making a Difference
Wine & Dine is Wintonbury Land Trust's major annual fundraising event, contributing over $19,000 to our funds in the past three years! Last year's event enabled our 501(c)3, all-volunteer nonprofit to:
Advance the mission of Hawk Hill Farm – Ongoing partnership with multi-year lease with HighlandArt Farm and their Community Supported Agriculture program; and support member gatherings at the farm such as the Fall Social & Hike.
Conduct Educational Outreach Events – "Bears in Connecticut" presentation at our annual meeting; Earth Day co-sponsorship; Trails Day nature hikes; and work with the Town of Bloomfield to promote the community gardens at Lisa Lane Farm.
Fund Annual Operations – Insurance, supplies, website redesign, stewardship, postage, property title searches, property surveys, and land appraisals; and strengthen our financial reserves so we have monies available for major projects and future acquisitions.
Please join us in protecting our community's natural resources, farmlands, and wildlife corridors: